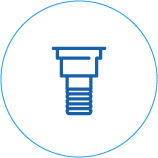 We No Longer Offer Lonsdale Dental Implant Treatments at Bayview
We no longer offer Lonsdale dental implant treatments at this office, but our staff can consult with you and help you find a suitable clinic that does offer this kind of service, for your convenience.
Other Services Besides Our Lonsdale Dental Implant Treatments
If you are looking for other types of dental services in the North Vancouver area, we offer a wide variety of oral treatments that our staff is more than happy to tell you more about. Check out our services and let us know how we can help you.
We are eager to help you achieve your goals so you can have a brighter smile. Contact us directly by phone or through our online contact form. Our staff will be able to answer all your questions about the treatments that we offer and will help you find the next available appointment that suits your scheduling needs.
We offer extended clinic hours to accommodate a wide variety of scheduling needs, because we know that our patients have a wide variety of scheduling needs.
Our staff will always welcome you with open arms. All our patients are an integral part of our dental family, and we are always welcoming new patients of all ages.
Talk with us today and ask us anything you would like to know about our practice. Bayview Lonsdale Dentist is always here for you!
We're accepting new patients. Get in touch with us today!