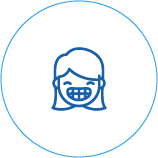 Smile Makeovers in North Vancouver
Your Lonsdale cosmetic dentist believes that one of the first things people notice is a great smile, and that it goes perfectly with any outfit. Whether you are just looking to put a little more sparkle in your pearly whites or you want a complete dental overhaul, we have the experience and equipment to fix your smile just the way you want.
Smile makeovers include procedures such as professional whitening, Invisalign® teeth straightening, veneers, teeth shaping, and crowns, and are frequently chosen for cosmetic reasons, comfort, and health.
Consulting with your Lonsdale Cosmetic Dentist
At our conveniently located office, our number one priority is making sure that you are happy with your dental results. We will never move forward with any procedures, cosmetic or otherwise, without discussing your specific desires, expectations, and concerns first. We know that each smile is unique and extremely personal, and we will work closely with you so that together we can create the smile you have always wanted.
In some cases, you can have a brand new smile in less than one month. We would love to create a customized a treatment plan for you that will transform the way you think of your teeth, changing anything you don't like into something to be proud of.
Our team knows that your teeth are one of the most important aspects of your look, and should be treated with the care and attention to detail that they deserve. With technology and years of experience, we can provide you with the dental care that can change your confidence and outlook for the better. So call us now to make an appointment and we can discuss how to make this dream a reality.
We're accepting new patients. Get in touch with us today!