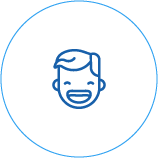 Straighten Your Teeth With Invisalign – North Vancouver
If you have ever wanted to straighten your teeth, fix your overbite, crossbite, or underbite, or close the gaps between your teeth without having to endure metal braces, Invisalign may be the perfect solution for you.
Invisalign is a nearly undetectable teeth straightening system with removable alignment trays made out of a translucent plastic. Because Invisalign's aligners are removable, you can pop them out while eating, drinking, brushing, and flossing so you don't have to sacrifice any part of your normal lifestyle. Invisalign is also barely noticeable to the naked eye, which means you can be working towards straighter teeth every day without anyone knowing.
Traditional metal braces can be extremely uncomfortable and can damage lips and the insides of cheeks with their protruding metal pieces, but Invisalign's plastic teeth straightening aligners are smooth and non-irritating. This makes it easy to wear them, even while you sleep.
Upgrading your aligners is easy. All you have to do is visit us every two weeks for a set of newly fitted straightening trays that will gently push your teeth towards your alignment goals. To get the most out of your Invisalign trays, be sure to wear them for 22 hours each day, taking them out only to eat, drink, brush, and floss, and in no time you'll see the results you want. Invisalign is so effective that some patients may reach their alignment goals in as little as six months!
Our dental professionals have extensive experience with the Invisalign straightening system and want to help you finally have the smile of your dreams. Contact us today for more information and to make an appointment to see how Invisalign can work for you.
Invisalign Treatment Before and After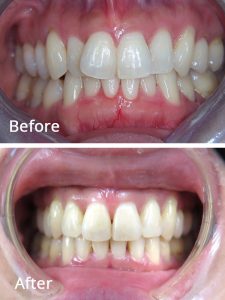 These before and after photos on the left are from the same patient after 9 months of Invisalign treatments in our office!
We're accepting new patients. Get in touch with us today!